CCAM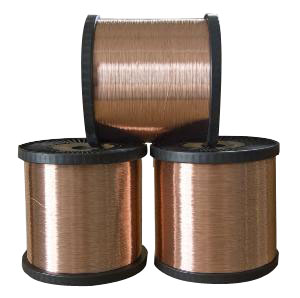 Specification:0.1mm-6.0mm

Product Description:
CCAM Wire,with its quality high-intensity copper cladding,and aluminum core,combines the excellent conductivity of copper with the light weight of alumium.
The product is the choice material for inner conductor of coaxial cable and appliance cable.

Detailed Product Description:
Our company has passed the evaluations of UL and RoHS certification and ISO9001:2000 quality management system certification .
SJ/T 11223-2000,CCAM
ASTM B 566-93,CCAM
CCA wire is sorted into Annealed(A) and hard-drawn(H) according to mechanical properties,or into 10% and 15% modles according to volume of copper cladding.

Advantages:
1.Our state-of-the-art cladding and welding crafts guarantee the high desity and conducticity of our 99.97% purity copper cladding,while our metallurgical bonding technique around the aluminum core along the wire for excellent coaxiality.Mechanical properties accord with US ASTM B566-93 Standard.

2.Given the same weight and diameter, Huawang CCAM Wire measures 2.6 times longer than copper wire which means that the budget for 1T of pure copper wire should now afford 2.6t of our CCAM Wire ,a choice product to reduce costs of material for cable prouduction.

3.The impossibility to separate the copper-cladding from the aluminum cord keeps thieves away.

4.CCAM Wire is light,easy to transport and install,thus saves labor cost.